World-class English sparkling wine
It's Coming Home
It's a truth universally not acknowledged that Champagne was actually created by the English.
A Gloucester doctor by the name of Christopher Merret is thought to have recorded a recipe for a Champagne-style drink some 20 years before French Benedictine monk Dom Pierre Perignon, who is officially recognised as the drink's father.
"We definitely beat the French and Dom Perignon by at least 22 years," says Tom Stevenson, the author of Christie's World Encyclopaedia of Champagne & Sparkling Wine, who has researched Dr Merret's work.
"Merret was not only the first to describe the deliberate addition of sugar to create a sparkling wine, he was also the first person ever to use the term sparkling wine". This is believed to be as early as 1622.
Whether or not the French will concede its origins they certainly seem to think that English soil is ideal for producing bubbly. Taittinger invested substantially in a large vineyard in Kent last year. Miles Beale, chief executive of the Wine & Spirit Trade Association, explains:
"You cannot get a much better seal of approval than a Champagne house as renowned as Taittinger recognising the quality of the sparkling wine we can produce on UK soil."
In fact, licence applications for new vineyards have increased by 40% in the past year alone and a massive one million vines will be planted in the UK by the end of the year – the largest number ever – making wine production one of the fastest growing agricultural sectors in the country. This year's vine planting will yield two million bottles of mainly sparkling wine, adding an estimated £50m to the industry. Projections are that this will double in the next five years.
What does it take to create your wine and what kind if investment can you expect?
Many people are growing grapes and entering into wine production, and enjoying the experience as well as the end product – and it is possible to grow vines in your garden and work with a winery so that you end up with something vaguely drinkable. It takes around 700 grapes to produce a bottle of wine. However, it will take around three to five years for a particular grape type to develop into a quality wine – and a further 3 years for fermentation. You certainly won't become a rich vineyard owner overnight. Running a vineyard is definitely a long-term investment and you could have to wait for a decade or two before you start to reap benefits. But it could be well worth the wait.
To give you an example, Art Tukker of Tinwood in West Sussex had the idea in 2005. By 2007 the vines were ready to planted, (they started by planting 46,000 vines over 28 acres). After planting a total of 84,000 vines, with 84,000 support rods, hitting in over 10,000 line posts and over 500 end posts, the vineyard was complete. He cared for the vines for 2 and a half years and in 2009 was rewarded with the first small crop of grapes.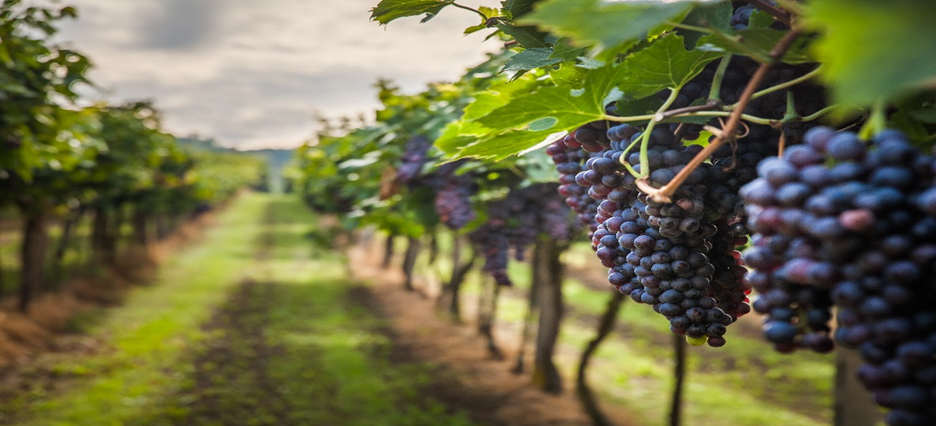 Gail Gardner from Ashling Park, in West Sussex near Chichester first thought of going into wine while lying on a beach only last year – with 10 acres of land just five miles away from South Downs national park and 3 miles from the coast, her family home seemed the perfect location.
Not being farmers or agricultural experts Gail has surrounded herself by experts in order to produce the best possible sparkling. One of these is winemaker Dermot Sugrue (who is widely credited with putting English sparkling wine on the map). Dermot has a rather reassuring past – after crafting vintages in both Bordeaux and Champagne he joined Nyetimber in 2003 and oversaw its emergence as one of the world's greatest sparklers. He also works on nearby Wiston estate. He says of West Sussex "It's an amazing place to make sparkling wines – the chalk soils on the South Downs are perfectly suited to it". With a blend of 50% chardonnay, 30% pinot noir and 30% meunier, Gail is confident they will end up with some great tasting fizz. And despite being someone for who alcohol never really agreed with, Gail is passionate about England's crusade. She says, "We are just 88 miles from the Champagne region and with our climate and soil I really want everyone to know that we can do it just as well as the French."
If you happen to go to Ashling Park you can see Gail's work, which is some 20,000 vines that were all planted in perfect rows by GPS in just one day.
Gail's marketing background stands her in good stead – she talks lyrically about seating areas among the vines, special pods and plenty of areas for visitors to wander round while enjoying a glass. There will be a few luxury bedrooms overlooking the vineyards at Ashling Park and a tasting room and tours.
When it comes to money the numbers are substantial. Based on the 10 acre plot Gail spent around £100K on plant investment i.e. tractors and sprayers etc, a further £25k to prepare the ground, £15k on Deer fencing and then a cost of around £150k to plant vines and trellis. This doesn't allow for the cost of wine tasting rooms and infrastructure and it could be over ten years before she breaks even at West Ashling, which should produce around £10k worth of wine.
But Gail couldn't bear to wait to get going so she's recently acquired a nearby vineyard which grows the same variety of grapes that she will use for her sparkling.  This means Ashling Park sparkling wine is already available in local shops and via her website.  It's received a big thumbs up from Susy Atkins, regular wine expert and presenter on BBC1's Saturday Kitchen, who says it's "dry and fresh with a lovely juicy mid palate".
When you add in the variables – like any farming job – bad weather, frost and disease could potentially destroy it all. But if you've got south facing land of at least eight acres and are happy to be patient – it may be worth taking a feasibility test. Who knows, drinking your own wine in retirement could be more than a romantic dream.

Strabens Hall Ltd is authorised and regulated by the Financial Conduct Authority ("FCA"). Our FCA registration details are set out in the FCA Register under firm reference number 461795 (www.fca.org.uk). Strabens Hall Ltd is registered in England and Wales (registered number 06015275) and our registered office is 5 – 9 Eden Street, Kingston upon Thames, Surrey, United Kingdom, KT1 1BQ.
Some of our services are not regulated by the FCA. Before you engage us in any work, we will outline which of those services are and are not regulated by the FCA to enable you to make a fully informed decision.
The Financial Ombudsman Service (FOS) is an agency for arbitrating on unresolved complaints between regulated firms and their clients. All complaints for referral should be submitted to Strabens Hall Ltd prior to approaching the Financial Ombudsman Service (FOS). Full details can be found on its website at www.financial-ombudsman.org.uk.