Financial Advisers – do I really need one?
Read our guide to uncover the 8 steps to finding the right one for you

What is a financial adviser (or wealth manager) and do I really need one? How can a financial adviser help and how often should we meet? These are some of the most common questions that we are asked by prospective clients; people who have been managing their own money, or have recently come into money, and now need the support and advice of a professional.
What is a financial adviser?
A financial adviser (also known as a wealth manager) may sound like a professional role only required by the super wealthy, or those with numerous investments – but that isn't necessarily the case. Your wealth manager helps you understand how you can better manage your money to achieve your financial goals. At each meeting, you will usually:
Spend time talking; your adviser will want to fully understand your current circumstances as well as your financial goals. Your financial plan you will ultimately agree on together is entirely unique to you and your circumstances
Discuss ways that you can achieve your financial objectives. Tools such as cash flow planning may also be used to help you visualise – and plan for – a variety of "what if" scenarios.
After meeting, your advisor will create a bespoke financial plan for you.
How can a financial adviser help me?
From saving money and advising on which savings account is best, to providing a sense of control in uncertain times, a financial adviser can help you understand how you can safely preserve, grow and enjoy your wealth. He or she will provide impartial support and advice, drawing on years of experience, continued professional development and access to the latest – and most reliable – financial information.
Some of the most common planning objectives that our financial advisers cover include:
Estate planning & Retirement planning: this covers everything from appointing a power of attorney to discovering the most efficient way to avoid paying (and leaving the bill to your loved ones).
Succession Planning – a wide ranging topic, including; how to create a school fee plan, arranging trusts and how to ensure my family are being treated equally (click here to listen to our podcast on this topic)
Investment management: advising clients on which managers to engage with, help you understand how much risk you need to take – and the types of funds that you should consider – to achieve your financial goals
Personal tax and corporation tax planning: this typically includes a review of your current situation to make sure that you are benefitting from the allowances and reliefs available to you.
Pension planning : demystifying the complexities of pension legalities, transfers, withdrawals, DB pensions, pension sharing and overseas pensions (QROPS, QNUPS)
When should I meet with a financial adviser?
It is a good idea to meet with a financial adviser whenever you are affected by a life event, or making a significant decision that will impact your wealth. This may include deciding to get married or purchasing a property. It also extends to unprecedented events such as a no-deal Brexit or a global pandemic (such as Covid-19).
The above recommendations hold true even when you already have a financial plan. If your circumstances change – through decisions or events that you can or cannot control – then you should request a review of your current plan. Your changing circumstances may impact its effectiveness and the range of options available to you.
How to find a financial adviser
If you simply start the process by Googling "best financial planning firms" or "financial advisor", you will be spoilt for choice. But how do you know which one to select? Basing your decision solely on online reviews, glossy images and flashy websites is never a good idea.
Below, we have shared 8 things to consider or look for when reviewing potential firms and advisors.

Search for connections with professional governing bodies
When you are trying to find a financial planner in the UK, look for firms and advisors who have connections with the Financial Conduct Authority (FCA) and the Chartered Insurance Institute (CII).
Reputable financial planning firms are regulated by the FCA. Exemplary firms and advisors are also proud to display their individual or Corporate Chartered status. Achieving Chartered status is not easy. The rigorous verification process reviews everything from formal qualifications and ongoing learning to adherence to best practice and exceptional customer service.
While many firms and individuals promote their regulation by the FCA and their Chartered status, it is best to verify these claims for yourself. To view financial planning firms that are regulated by the FCA, you can use the Financial Services Register for free. You can also access information about a firm and its advisor's Chartered status on the CII's Member Search and Chartered Firm Search.
Choose an independent financial advisor
An independent financial advisor (IFA) will provide you with impartial advice that is fully tailored to your financial goals and needs. They will avoid promoting a single company's (or a restricted range of companies') financial products, and they will never attempt to influence your final decision.
Here at Strabens Hall, for example, our experienced independent financial advisors always provide you with a variety of options, all of which are tailored to your unique needs. We never assume to make the final decision for you. The more complex your personal, business and financial arrangements are, the more likely it is that there are several planning options available for you. Knowing what drives you, your future ambitions and your wishes for your family will ultimately help us to help you make the final decision.
Look for the right type of experience
Before you book an appointment, make sure that the firm (or a specific advisor) has the type of experience that you need.
When your level of lifestyle involves owning property abroad, pensions in non-UK jurisdictions or complex business arrangements, it's important to source the right professional who has experience in the areas that are relevant to you. Their experience will ultimately save you the time, energy and costly mistakes a lack of foresight or in-depth knowledge of regulations can have.
Perhaps you intend to move permanently to your holiday home, in the South of France. If you are thinking about relocating to France and you want to know how this will affect your UK pension, search for someone who has experience advising British expats in France.
To find out more about an individual's experience, connect with them on LinkedIn and view their profile. Look for information about financial advisors on company websites. Above all else, do not be afraid to ask plenty of questions when you email or call to discuss options.
As a bare minimum, we always recommend searching for a financial adviser with Individual Chartered status. To achieve this status, a wealth manager will need to have completed the Advanced Diploma in Insurance and have at least 5 years of experience within the sector.
Find evidence of recognition from other professionals
Financial planners often work alongside legal professionals and accountants. Finding evidence of existing partnerships can give you greater insight into the credibility and quality of a firm and its advisors. Unfortunately, it is not always easy to find this type of evidence. We recommend reviewing blog posts and podcasts and keeping an eye out for quotes, testimonials and guest posts from industry heavyweights. Searching LinkedIn, Twitter and other social networks for evidence can also be beneficial. If you do not feel comfortable browsing a number of different blogs or using social media, you can also ask advisors who they regularly partner with. If in doubt, simply ask the other professional advisers you trust, for their opinions.
Make note of any awards that a firm and / or its advisors have won
Be on the lookout for any awards that a firm and its financial advisers have won. Within the financial planning industry, individuals or firms are commonly shortlisted for awards based on nominations / votes from the general public; an example of this is the Citywealth Financial Advisory Firm of the Year. Firms may also be presented with an award by an industry professional who has carefully vetted a detailed – and fully verifiable – award submission.
Regardless of the 'how', awards won can be used to better understand a financial advisor's – or a firm's – key strengths.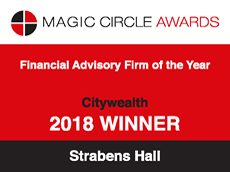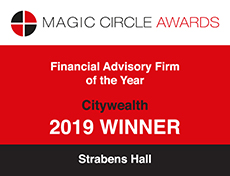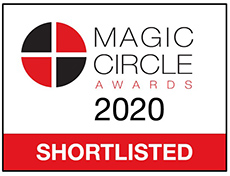 Ask for recommendations from the people that you know and trust
It is always a good idea to ask the people that you know and trust for recommendations. You do not have to limit yourself to asking friends and family; if you are already working with legal or finance professionals (for example, an accountant), be sure to discuss recommendations with them too.
Consider a firm's priorities: do they match your personal values?
A mid-pandemic study by Edelman found that a growing number of individuals now want to work solely with brands who "protect the well-being and financial security of their employees" over profit. If this is something that you value, you will want to do some investigating before you take the next step. View blog posts and social media pages and search for signs that the financial advisory firm: a.) champions individuals for work-related (and relevant personal) successes, b.) remembers, acknowledges and celebrates key milestones, such as birthdays, work anniversaries, major life events, personal efforts for charities and, c.) retains team members for long periods of time. It is also important to consider how a firm has cared for its employees throughout the Covid-19 pandemic. For example, have they gone above and beyond to ensure a safe workplace? Have they provided alternative options such as working from home?
Is their charging structure compatible with the work you require?
Make sure you know exactly how their fee structure works and discuss your expectations. Here at Strabens Hall, we charge on a fixed fee/ time spent basis, and not on commission.  Your fees are agreed upon before we embark on any work for you.
Find out more about our team of experienced financial advisors
Our experienced financial planners are based in the UK and France. To book an appointment, or to find out more about Strabens Hall, contact our office.
Strabens Hall Ltd is authorised and regulated by the Financial Conduct Authority ("FCA"). Our FCA registration details are set out in the FCA Register under firm reference number 461795 (www.fca.org.uk). Strabens Hall Ltd is registered in England and Wales (registered number 06015275) and our registered office is 5 – 9 Eden Street, Kingston upon Thames, Surrey, United Kingdom, KT1 1BQ.
Some of our services are not regulated by the FCA. Before you engage us in any work, we will outline which of those services are and are not regulated by the FCA to enable you to make a fully informed decision.
The Financial Ombudsman Service (FOS) is an agency for arbitrating on unresolved complaints between regulated firms and their clients. All complaints for referral should be submitted to Strabens Hall Ltd prior to approaching the Financial Ombudsman Service (FOS). Full details can be found on its website at www.financial-ombudsman.org.uk.