Alex Stephens joined Strabens Hall as Head of Operations in November 2022.  After working with some giants of the financial industry I wondered what inspired him to join us and, given his recent promotion to Chief Operations Officer, how he views his role and impact on the firm moving forward.
Having worked at some larger companies in the industry during your career, what attracted you to Strabens Hall?
I immediately recognised that Strabens Hall had a unique proposition which enables it to stand out from the crowd in a rather saturated sector of the industry.
The firm specialises in providing holistic financial planning advice to HNW clients with specific expertise in cases with an international touchpoint. It complements this advice with an investment consulting service, where a specialist team works with clients to develop a personalised investment policy statement which is followed by a recommendation based on blend of investment solutions specifically designed to meet the client's objectives. This combination of services is what differentiates Strabens Hall from it's competitors.
Ultimately, I saw Strabens Hall as an exciting opportunity to join an innovative company with big ambitions and to be a key part building the business and shaping it's future.
When you were offered the position of COO, what excited you most about the role?
I was thrilled to be offered the opportunity to further contribute to the overall growth and success of the firm. As COO I knew I would be able to have a significant impact on the strategic direction of the organisation during an important and exciting period in the company's development.
Strabens Hall is the perfect place to take this next step in my career as I am supported by great colleagues and a strong leadership team.
How do you see the company evolving with you as COO?
As the firm continues to evolve, operational efficiency and scalability become increasingly important. It is my job to ensure that we are able to offer the right solutions to meet our clients' needs, underpinned by robust systems and efficient processes, prioritising quality of service and excellent client outcomes above all else.
In order to achieve this, we are reviewing and optimising our processes across the board, leveraging technology wherever possible in order to boost our operational productivity and enhance the client experience. We also continue to hone our offering with a specific focus on refining our strategic provider and platform partnerships to ensure we continue to offer the best possible solutions to our clients.
Now let's hear more about the Alex Stephens, the person rather than the COO!
You are passionate about Formula 1 – so who is going to win this year's championship?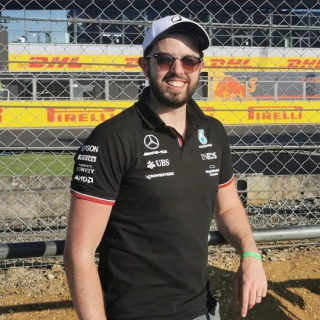 As a diehard Lewis Hamilton and Mercedes supporter, I would love to say that Lewis will take the title but it seems to be a forgone conclusion that Max Verstappen and Red Bull will take both the driver's and constructor's championships this year. Here's hoping Mercedes make a step in the right direction next year! On a side note, I was really pleased to see Lando Norris do so well at Silverstone, it's great to see the field closing up and the sport becoming more competitive.
You also enjoy cooking, what is your favourite type of cuisine and what would be your perfect meal?
I do love cooking, you'll often find me outside cooking on my Kamado come rain or shine. In fact, I've even been known to cook the Christmas Turkey on it – something I probably won't be repeating any time soon given the downpour I suffered last time. I am particularly passionate about Asian food. Having recently got back from an incredible trip to Vietnam and Cambodia, I have been trying to replicate some of the wonderful food I tried whilst out there. I'm not sure I have one perfect meal, there are too many delicious options but something seafood orientated would probably be my first choice.
You have a degree in Astrophysics, if you were offered a trip to outer space would you go?
I would absolutely jump at the chance of a trip to orbit, perhaps a few days at one of the proposed space hotels of the future. I can't say that I'd be quite as keen on a journey to outer space unless I can bring my wife and pets along for the ride, do you know if they make space suits for beagles yet?
Not sure about the space suits for beagles but you never know, anything can happen!
Thank you, Alex for taking the time to answer our questions and once again congratulations on your promotion to COO on behalf of Strabens Hall I can honestly say we are very much looking forward to working with you in your new role.
Strabens Hall Ltd is authorised and regulated by the Financial Conduct Authority ("FCA"). Our FCA registration details are set out in the FCA Register under firm reference number 461795 (www.fca.org.uk). Strabens Hall Ltd is registered in England and Wales (registered number 06015275) and our registered office is 5 – 9 Eden Street, Kingston upon Thames, Surrey, United Kingdom, KT1 1BQ.
Some of our services are not regulated by the FCA. Before you engage us in any work, we will outline which of those services are and are not regulated by the FCA to enable you to make a fully informed decision.
The Financial Ombudsman Service (FOS) is an agency for arbitrating on unresolved complaints between regulated firms and their clients. All complaints for referral should be submitted to Strabens Hall Ltd prior to approaching the Financial Ombudsman Service (FOS). Full details can be found on its website at www.financial-ombudsman.org.uk.