A personal profile: Michael and Inna Rogatchi.

Michael Rogatchi (C). Duetto in Red. Mixed Technique. Indian Ink, Pastel on red cotton paper. 50 x 35 cm. 2017. The Rogatchi Art Collection.
At Strabens Hall we frequently come across individuals who have a firm commitment to using their talents, influence and resources to make a real difference to others.
Philanthropy is a topic that we often discuss with our clients – and more specifically, how best to make a meaningful impact with charitable initiatives. A prime example of such people are Inna and Michael Rogatchi who have an unwavering dedication to using their remarkable artistic talents for the greater good.
If you looked in a pictorial dictionary for a definition of 'polymath', you might see a photograph of the Rogatchis.  Inna is a writer, scholar, lecturer, film maker and art photographer.  Michael is an artist, but with an MSC in Neuroscience.
In 2013 they received an award for 'Outstanding contribution to the Arts and Culture' – the first time that this award had been received by a couple of artists rather than an individual, and 2016 they exhibited their works together for the first time.  The exhibition was fittingly called 'At the Same time'.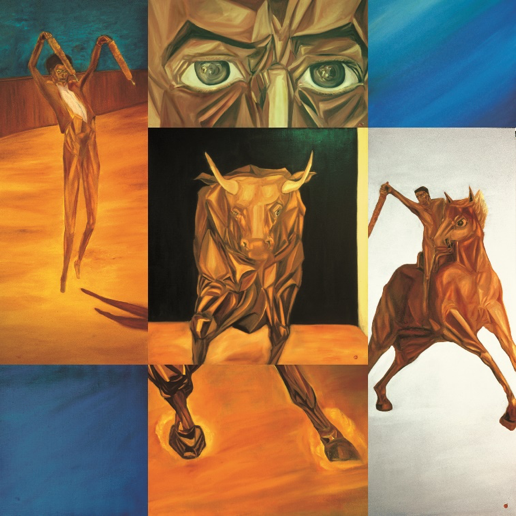 Michael Rogatchi (C). Bolero. Original art composition. Triptych. Part II. Oil on canvas. 300 x 279 cm. 2000-2002.
Whilst Inna and Michael are both renowned artists, their works manifest themselves in very different forms. Michael's work follows a rare genre of 'metaphorical expressionism', and is the only living artist who has had a personal retrospective at the Tampere Hall, Scandinavia's largest art museum. Inna's art is an original form of photography, and has resulted in her being the first individual to win the Volo di Pegaso Italian National Art, Literature and Music award twice.
Michael and Inna's work can be found in the premises of the European Union and European Parliament, fitting indeed for this couple who are truly European, as they split their time between Finland and Italy.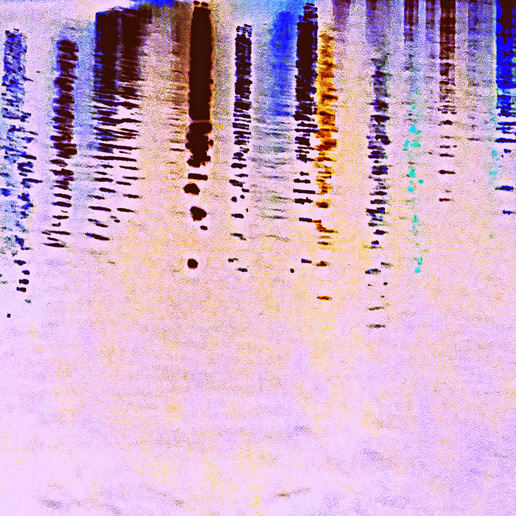 Inna Rogatchi (C).  Venetian Evening I. Fine Art Photography. Limited Edition. Authored Pigment Print on cotton paper. 30 x 40 cm.  5/50.  2018.
Whilst their artistic achievements are so notable, what really sets the Rogatchis apart is their commitment to charity. They were co-founders of 'Arts Against Cancer' where the Honorable Chairman was Rostropovich and subsequently established the Rogatchi Foundation to take a more targeted approach to
their charitable activities. They promote art and culture, support moral heritage, help young talents, and provide for the elderly and needy, specifically focussing on orphans. They passionately believe that art and culture can play an exceptionally powerful role in philanthropy and in making a difference to those in need. The Rogatchi's life is a whirlwind of activity and as the couples' artistic endeavours become more widely known, their schedule becomes busier. It is clear that as much as their artistic passion drives them to do more and more, it is the knowledge that much of what they do is ultimately for the greater good that gives them their drive to succeed and is the true inspiration behind their passion. Their latest initiative is to support children's art education and to this end they are producing 65 limited edition prints of 'Duetto in Rain' which will support this 'For the Artists of Tomorrow' project.
As a private client adviser, there is little more fascinating than understanding what motivates clients. In the Rogatchi's case, it is clear that their desire to leave a legacy and to demonstrably improve the lives of those less fortunate than themselves is the fuel of their many artistic achievements.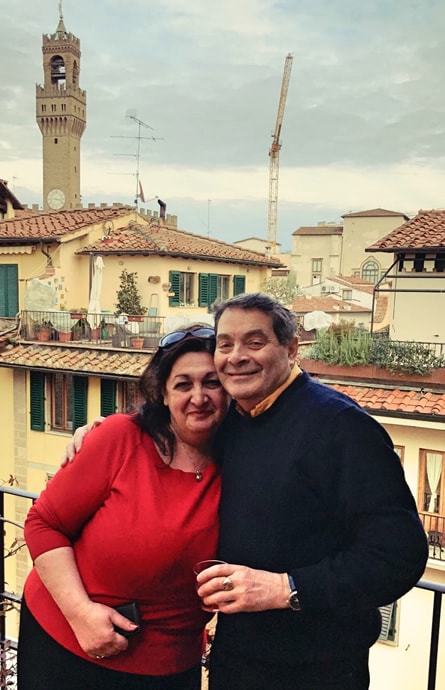 Michael and Inna Rogatchi. Florence, Italy, winter 2018. Photo: Marusca Pagliuca (C). The Rogatchi Archive.
Nicholas Toubkin, Senior Client Director.
Strabens Hall Ltd is authorised and regulated by the Financial Conduct Authority ("FCA"). Our FCA registration details are set out in the FCA Register under firm reference number 461795 (www.fca.org.uk). Strabens Hall Ltd is registered in England and Wales (registered number 06015275) and our registered office is 5 – 9 Eden Street, Kingston upon Thames, Surrey, United Kingdom, KT1 1BQ.
Some of our services are not regulated by the FCA. Before you engage us in any work, we will outline which of those services are and are not regulated by the FCA to enable you to make a fully informed decision.
The Financial Ombudsman Service (FOS) is an agency for arbitrating on unresolved complaints between regulated firms and their clients. All complaints for referral should be submitted to Strabens Hall Ltd prior to approaching the Financial Ombudsman Service (FOS). Full details can be found on its website at www.financial-ombudsman.org.uk.